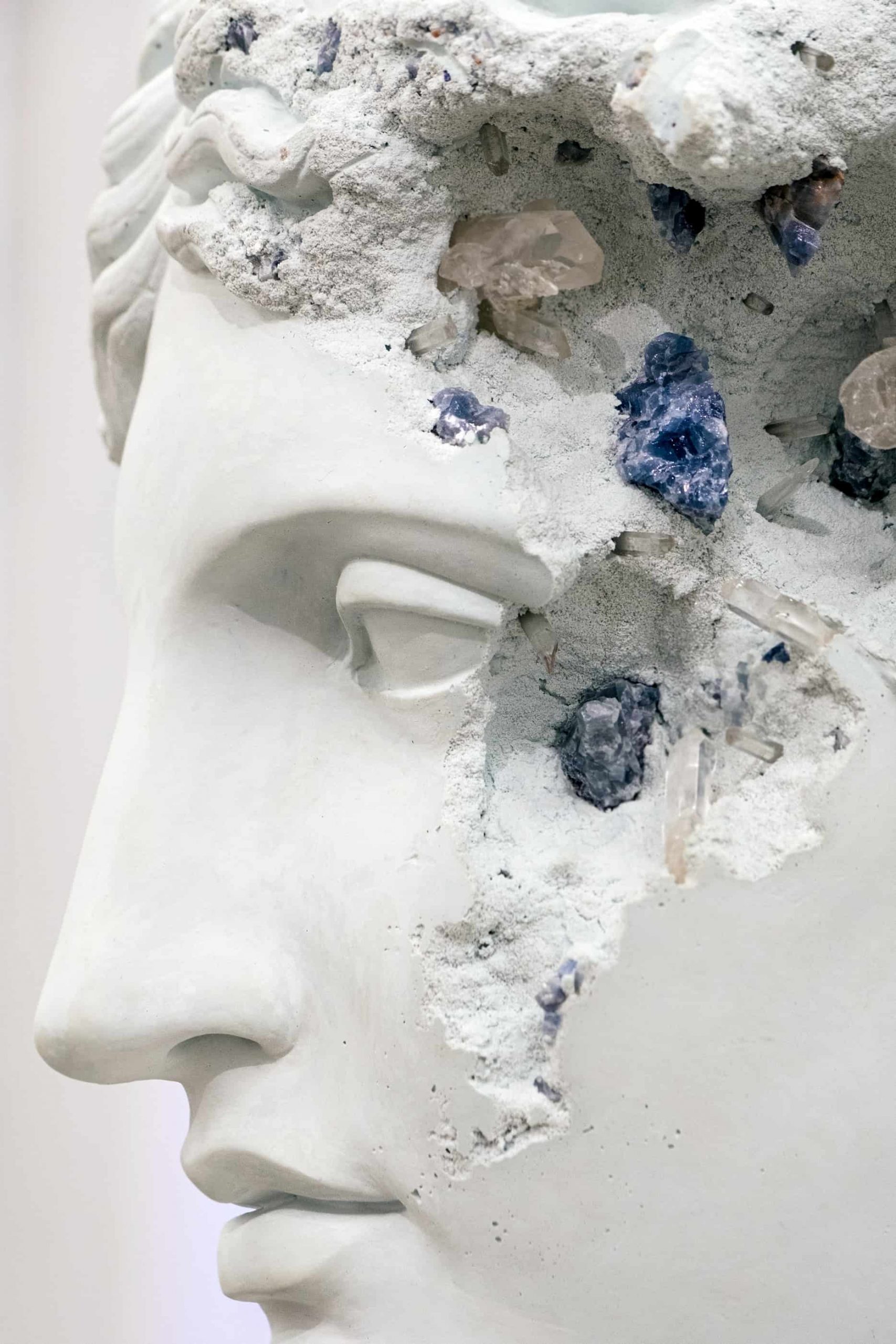 02 Feb

On The Edge Of Art With Daniel Arsham

When you listen to Daniel Arsham speak, it seems natural to marvel at how such prolific productivity and serene calm can co-exist within one person. Perhaps, however, it is exactly this calm that allows American artist Arsham to absorb and re-project such a broad view of the world, as he plays with concepts of time and existence through a diversity of artistic media. Masterfully, he has created not only a new aesthetic, but an entirely new reality – and he invites you to become immersed.

Between paintings, sculpture, theatrical sets, film, books, fashion, performance art, and even architecture, Arsham has established a signature energy, and the world is enthralled. Here, we will journey into the Daniel Arsham reality, and discover a little more about what fuels this of-the-moment artist.

A Pentax Camera And Hurricane Andrew
At the tender age of 12 years old, Daniel Arsham was to endure an experience that would alter the track of anyone's life. Hurricane Andrew swept through the area of Miami, Florida that served as his childhood neighborhood. Arsham sheltered in a reinforced closet as the house was destroyed around him. He emerged to discover the crumbled and twisted remnants of his family home. This childhood trauma would later inform his 2013 exhibition, Reach Ruin – the title of which is an anagram for Hurricane – although it was certainly not going to hold him back.
The young Arsham was captivated by visual composition, and overflowing with creativity. His grandfather – an impassioned art collector – served as an early influence, and gifted Arsham a Pentax camera. Quickly, he became fascinated by the way that the framing of a lens could transform the mundane into the exquisite. The camera was destined to become part of something far larger, as Arsham's creativity was set to unfurl.
Interpreting Time
Architecture defined Arsham's initial trajectory, as he attended the Design and Architecture High School, before attending the Cooper Union in New York on a full scholarship. Upon graduating, he returned to Miami and established an art exhibition space with friends called The House. Here, Arsham was to meet Emmanuel Perrotin, establishing a friendship that would lead to his representation by Parisian Gallerie Perrotin. Shortly thereafter, Arsham was approached by infamous dance choreographer Merce Cunningham, who asked him to collaborate within the world of theater through elaborate modern set pieces. Within this performance art setting, Arsham began to think about the viewer's experience, and the creative's capacity to compress or expand others' perception of time itself.
The next fateful moment within Arsham's creative evolution came in the form of a visit to Easter Island. As he beheld the monumental Moai statues, and contemplated the great mystery that surrounds them, he realized the extent to which all archaeology is fiction. When he married this notion with the idea that time can be manipulated for the viewer of any art form, a new concept began to form. Arsham initiated a much larger manipulation of time – on a geological scale – as he began work on his now renowned fictional archaeology. He began sculpting contemporary objects – those so iconic that they would be instantly recognizable, anywhere in the world – as if they had been re-discovered, fossilized, in some future landscape, as yet unknown.

Fictional Archaeology
The very first piece was a cast of his grandfather's gifted Pentax camera, cast in the ground up volcanic stone he had brought back from Easter Island. This initial experiment was a failure, as the re-formed rock crumbled. He realized that, with each material he would explore, he would need to find the perfect balance in creating objects that appeared as if they were decaying, but were in fact not – each piece frozen in time.
This technique would evolve into future bodies of work, and exhibitions Circa 2345, Future Relic, and 3018. His scope expanded to include not only small objects, but large muses such as cars, and people. He mastered the manipulation of geological material such as sand, selenite, and volcanic ash. And, while some might consider his work to be post-apocalyptic, he likes to highlight a more optimistic stance. Many of his pieces include crystalline forms, which imply growth and evolution, alongside decay.

A Creative Outpouring
Arsham's palette is mostly monochromatic, which may be attributed to the fact that he is naturally colorblind, although he wears corrective glasses. His earlier output included full-color paintings, which he described as works born out of sheer necessity, because he lacked the material means to manifest his vision in three dimensions. Today, his prolific creation know no bounds, as he creates small-scale pieces, vast sculptural installations, furniture, architecture, and collaborates within the fashion world, working with brands such as Dior, Uniqlo, and Adidas.
His work has ventured into the realm of collectible art toys, in collaboration with brands such as Be@rbrick Toys with Medicom Toys. With architect Alex Mustonen, he founded Snarkitecture in 2008, an art-meets-architecture project that makes architecture do things it was never intended to do. He has also co-created with a range of visionaries, including artist Hajime Sorayama, choreographer Jonah Bokaer, musician Pharrell Williams, artistic director of Dior Kim Jones, and artist Ronnie Fieg. Arsham describes himself as an alchemist, probing at the edges of art – where its practice allows the every-day to become something more. What is certain is that Arsham's creative nature is heady with momentum, and the world is to be graced with much more of what he has to offer. Collectors, no doubt, look on in anticipation.
This Daniel Arsham article was first seen on NonsuchFoundation.com.