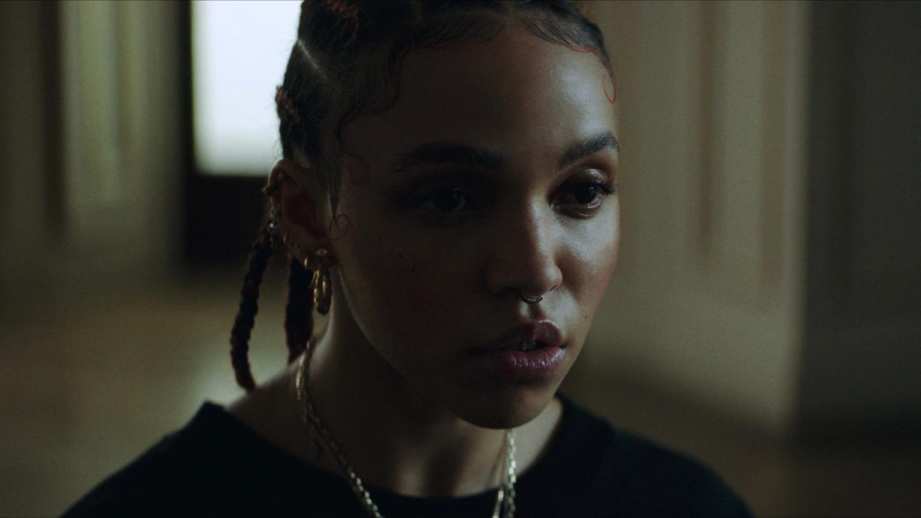 28 Jan

In "Don't Judge Me," FKA Twigs Fights Off Invisible Oppressors

Source Credit: Images and content by Ryan Waddoups. See the original article here - https://www.surfacemag.com/articles/fka-twigs-dont-judge-me-video/

https://images.surfacemag.com/app/uploads/2021/01/28165347/fka-twigs-dont-judge-me-video-02.jpg

ART
With Kara Walker's Fons Americanus setting the stage, the lauded British musician poetically captures a struggle against unseen forces of judgment while uplifting the Black creative community.
BY RYAN WADDOUPS January 28, 2021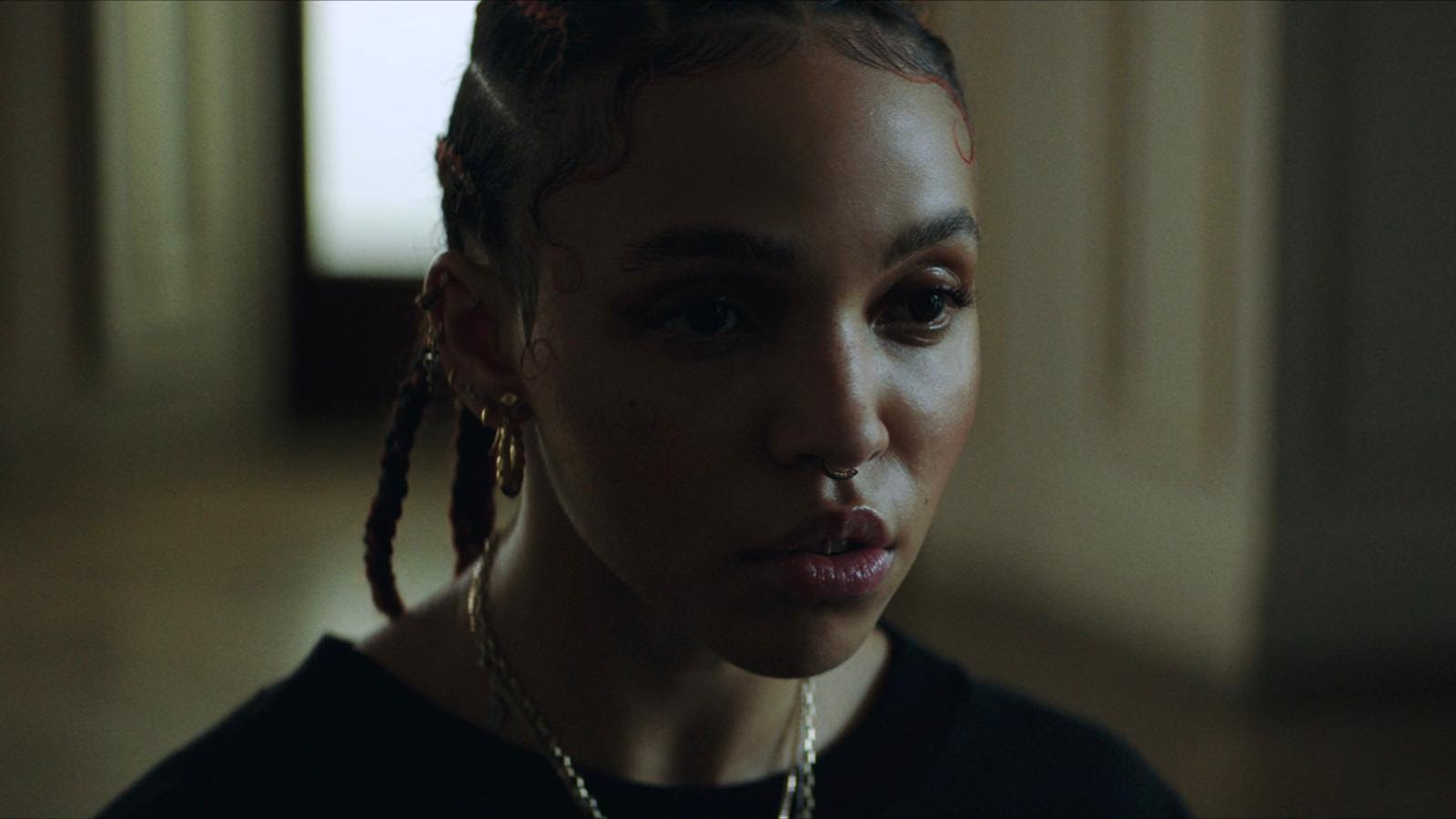 FKA Twigs in the video for "Don't Judge Me" …
Kara Walker never intended for Fons Americanus, a monumental sculpture modeled after the iconic Victoria Memorial fountain at Buckingham Palace, to be physically permanent. Installed inside the Tate's Turbine Hall, the 42-foot-tall fountain-like structure speaks to the horrors wrought by the Transatlantic slave trade through hand-molded clay sculptures of weeping children, Black individuals who fought back against European colonial forces, and nooses hanging from trees. Fons Americanus both exposes the chilling stories embedded within the elaborate symbolism of public monuments—many of which honor colonial legacies and were toppled during a wave of Black Lives Matter protests this past summer—and represent the violence, tragedy, and voices that have been erased from history. Critics widely praised the work, calling it a poignant meditation on what public monuments mean in today's fraught political climate.
Though the sculpture has now been seen by millions thanks to social media, it will be dismantled and recycled when the installation closes on February 7. As somewhat of a last hurrah before Tate officially draws the curtain, FKA Twigs is helping immortalize the searing message behind Fons Americanus even deeper into memory. In the London musician's evocative video for the newly released song "Don't Judge Me," which she co-directed with Emmanuel Adjei (who was behind the camera of Beyoncé's Black is King), Kara Walker's epic work plays a starring role. Dancers crawl, convulse, and writhe around the sculpture as if being yanked around by invisible forces. Around them are notable Black British visionaries, including poet and Black Lives Matter activist Solomon O.B, musician Benjamin Zephaniah, curator Nicole Crentsil, and Reni Eddo-Lodge, the first Black author to top the U.K.'s bestseller list.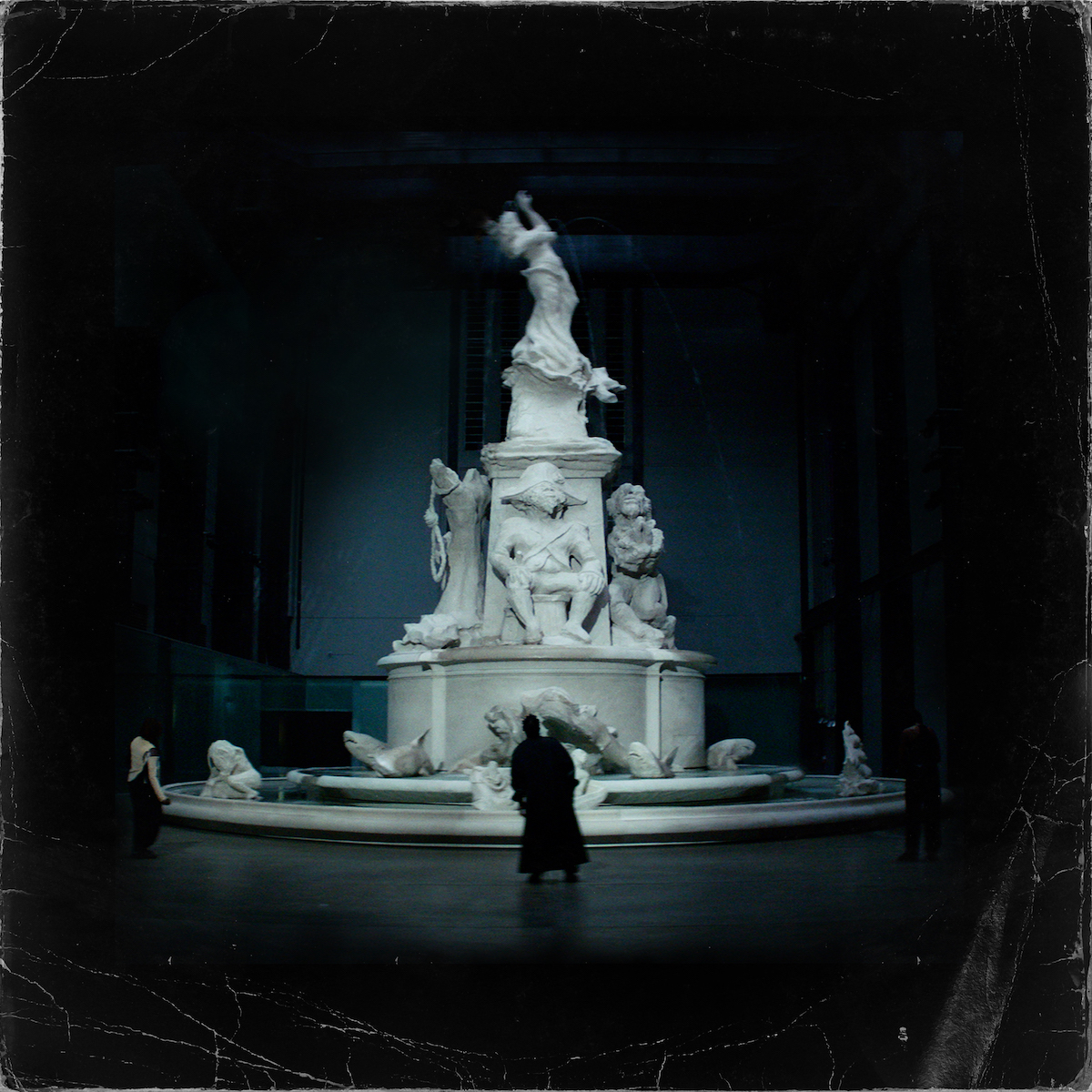 Kara Walker's Fons Americanus pictured in the video …
"From someone's appearance, we're unable to judge whether a person discriminates over color, sex, religion, or gender," Adjei says, deeming the video as an audio-visual document that captures a struggle against invisible forces of judgement. "The oppressors within the people surrounding us most often remain invisible until their abuse against others is revealed. This is one of the reasons why, for generations, discrimination is so hard to fight. Who must the victim fight against if it can't identify the perpetrator?" He further describes Fons Americanus as not only the setting, but the spirit of the film. "This important monument creates another layer of depth and meaning to an invisible yet shared history."
The dramatic fountain shots are interspersed with Twigs hovering and dancing around a barren room, triumphantly fighting against invisible oppressive forces. While doing so, she pleas for love, understanding, and compassion—whether for her own past trauma and mistakes, or from within a world where Black existence is synonymous with pain. In her signature falsetto, Twigs sings "don't judge me, be there for me / don't judge me, just hold me in your arms." Headie One, who co-stars on the song with fellow British musician Fred again.., ruminates on police brutality and systemic racism within the United Kingdom. ("I can't trust the police force and I can't trust the media / Learned more about my people from the streets than from my teachers.")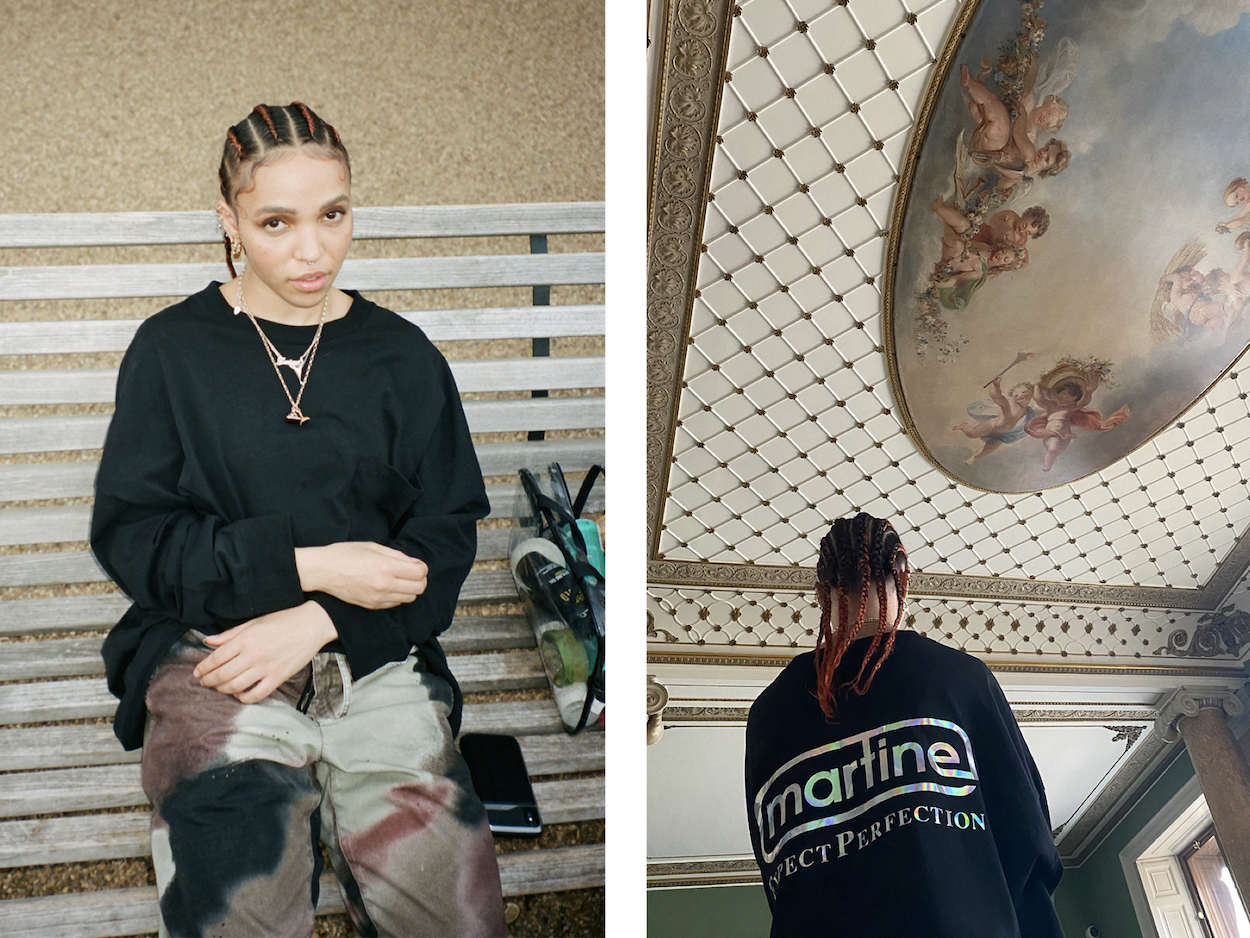 FKA Twigs wearing Martine Rose. Images via Twitter …
Twigs is wearing exclusively Black fashion designers—Martine Rose and Virgil Abloh—as a way to share hope for the future of the Black creative community. In support of video's release, she even created an edit of her favorite Black talents for Farfetch, which includes pieces by Heron Preston, Telfar, and WANT Les Essentiels. "The selection I've made is a mix of pieces I'd wear on a day-to-day basis—ingenious design in terms of functionality, while also looking effortless. It's a mix of the romantic styles I love with things that are also practical and chic." She also expressed that, despite fashion's fickle and fleeting nature, "supporting Black talent needs to be something that's permanent and not a trend."
Anyone familiar with Twigs knows that she obsesses over every detail of her artistry, from layers of production on her genre-bending music to her elaborately choreographed stage performances. Twigs doesn't pay much attention to whether or not her music sells well—she's more concerned about the euphoria that accompanies the pursuit of mastering a new craft. And when she wants something, she goes all in. (Recall that after having six fruit-sized fibroid tumors removed from her uterus and faced with the prospect of never expressing her music through physical movement again, Twigs quickly learned how to pole dance and showed off her newfound expertise in the evocative video for "Cellophane.") It only serves to propel her artistry into even greater heights. "I'm equally as passionate about telling the story about the album and having lots of live shows and little vignettes that carry the story on," she says on BBC's Grounded with Louis Theroux podcast. "Even in the costumes for the Magdalene tour, they were all references to Mary Magdalene in terms of the color. There were secret messages sewn into the embroidery."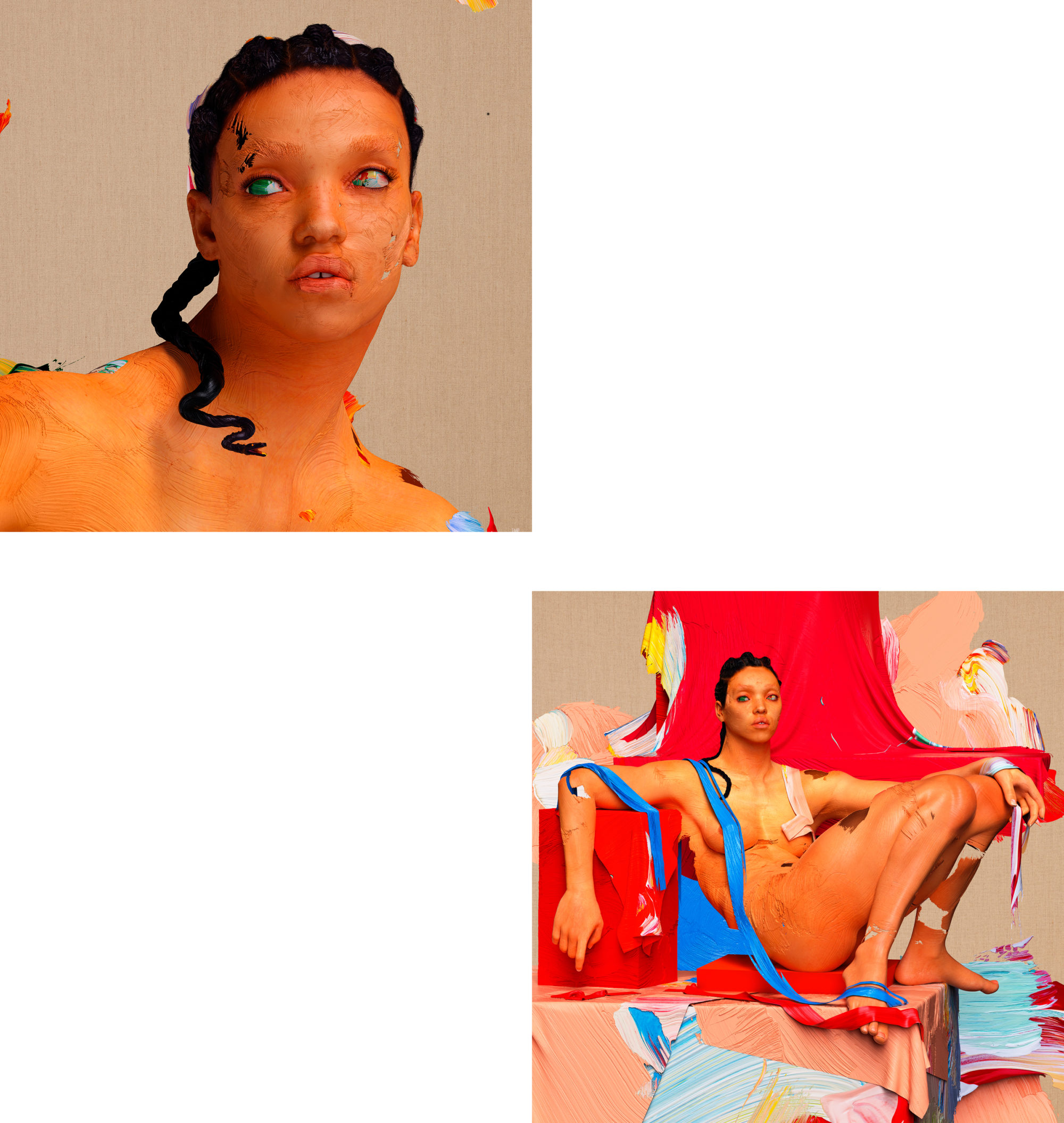 Magdalene album artwork by Matthew Stone …
It may seem like a shame that Magdalene, her critically acclaimed 2019 studio album, was released just a couple months before the coronavirus pandemic ground the cultural calendar to a screeching halt, effectively cutting off the album cycle at the knees. Best described as an operatic tour de force, the album soundtracks her gripping response to a highly publicized breakup with the actor Robert Pattinson and the heartache that followed. While her fans may never receive the full Magdalene experience in quarantine, Twigs insists the unlikely turn of events aligns with the album namesake's oft-obscured story. "I felt like it was poetic that the full story wasn't able to be told because that's the truth about Mary Magdalene," the Catholic school alumnus tells Theroux, noting the biblical figure's centuries of obfuscation by chauvinist churchmen."We don't know a lot about her, or how wonderful she was, or what her true role was in terms of the work she did with Jesus."
Twigs, on the other hand, is making sure her own story is heard. The pandemic coincided with another public personal struggle: her breakup with the actor Shia LaBeouf, whom she accused of sexual battery, assault, and infliction of emotional distress. She later explained her decision to publicly speak out proves that even a successful artist with a strong support system can be caught in relentless cycles of abuse. "I've decided it's important for me to talk about it and try to help people understand that when you're under the coercive control of an abuser or an intimate partner violent relationship, leaving doesn't feel like a safe or achievable option," she wrote on Twitter. "I hope that by sharing my experience, I can truly help others feel like they're not alone and shed some light on how those who are worried somebody they care about may be in an abusive relationship can help."
Such intense physical and emotional trauma can feel paralyzing if not insurmountable, but Twigs has never succumbed to creative inertia. She admits to having written an entirely new album in quarantine and relishing in the collaborative process—there will be more guest features than on any of her previous albums—despite the pandemic-induced physical distance. Many details are still under wraps and it remains unclear whether or not "Don't Judge Me" will be included. If the track and video are any indication, however, her loyal fanbase has much more to look forward to than new music. Themes of uplift, empowerment, and solidarity against oppressive forces are sure to prevail. As someone commented on the YouTube video, "I just know this is going to be a cultural reset."
Source Credit: Images and content by Ryan Waddoups. See the original article here - https://www.surfacemag.com/articles/fka-twigs-dont-judge-me-video/